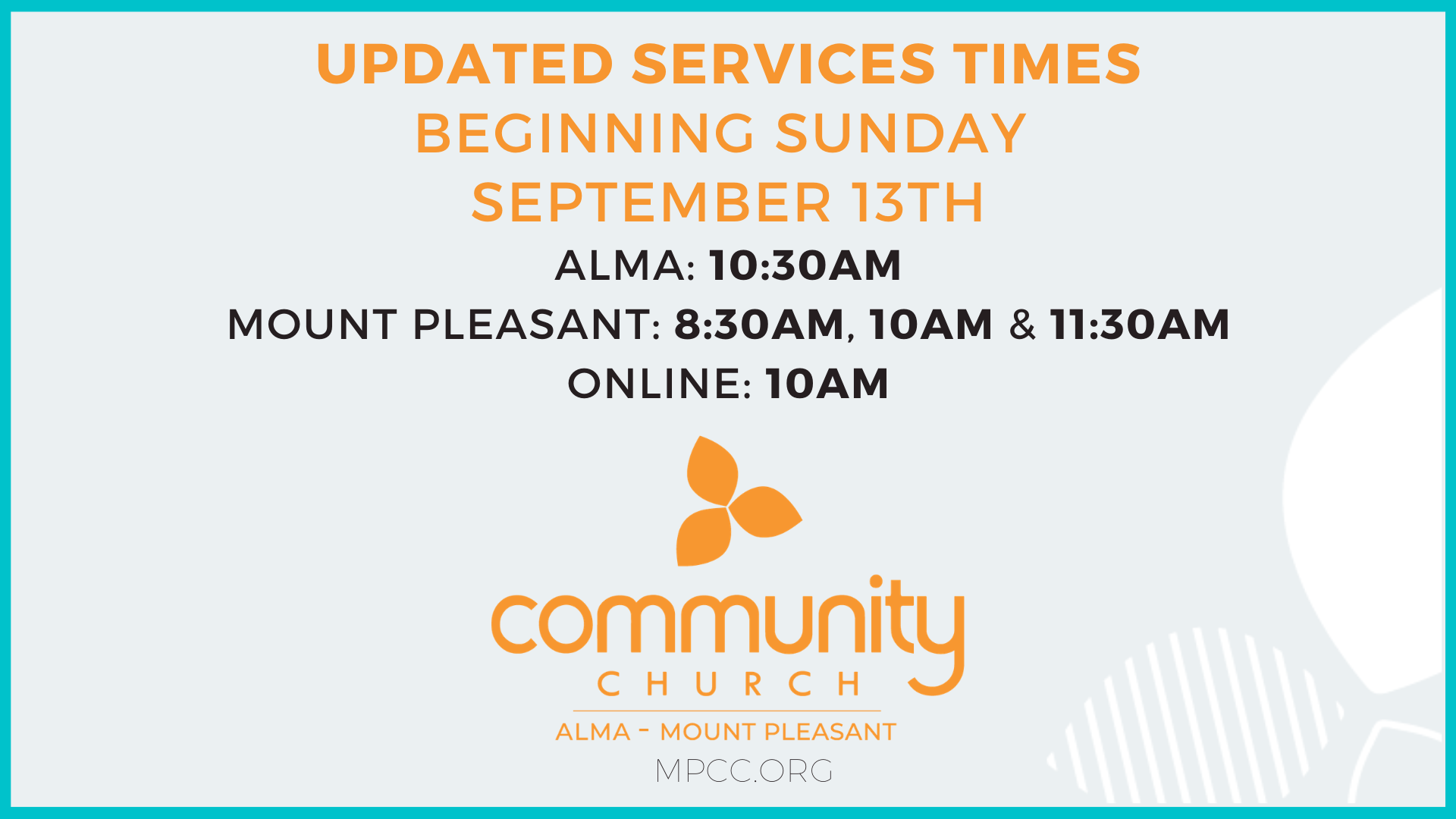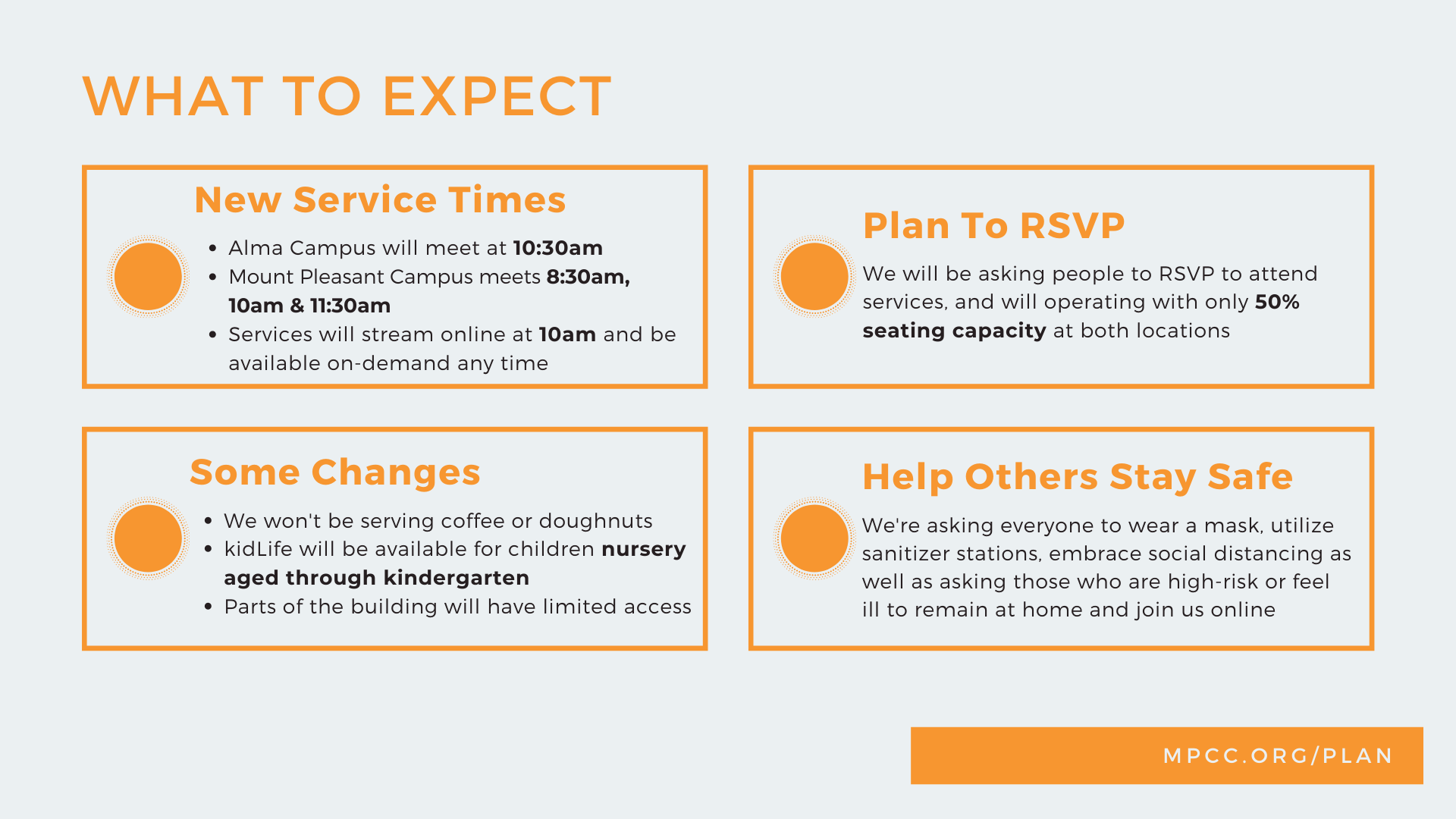 Regather Frequently Asked Questions
RSVP for Sunday, September 20th
RSVP for Sunday, September 27th
Connect with our Service Stream
---
July 26th Update Letter:
To all the saints at Community Church,
I trust and pray that you are well and enjoying the favor of God.
This year has been filled with unexpected change and challenges for all of us. The leadership of this church has been praying for you and your family on a daily basis. That prayer and concern and love will not stop. Thank you for praying for our church, thank you for how you serve and give, thank you for being a real part of this precious family. What a joy… together, we call Him 'Abba Father.'
In our efforts to be the best neighbors possible, in March, we suspended our Sunday gatherings in both Mount Pleasant and Alma. Our sincerest hope was to do our part to stem the spread and effects of COVID-19. Thank you for your gracious patience in that process. Well, we believe it is time to regather the church again. The Elders and Pastors of this church have spent considerable time in prayer and seeking God about when and how to do that. In fact, we truly believe that we have heard from the Lord and we want to respond to His leading with obedience.
Both campuses will regather and open to the public on August 16th 2020. Our services will be at 9am and 11am in Mount Pleasant. Our Alma service will be at 10:30am.
Like many other organizations and businesses in our communities, we will have some careful protocols in place to safeguard and protect those who will join us in person. We will communicate those in greater detail as we get closer to the date, but here are some of the most significant pieces for you to be aware of:
There will be no kidLife ministry (nursery through 6th grade) on Sunday morning. Children are welcome to join in the Auditorium with parents/guardians.
We will allow for 50% seating capacity to encourage social distancing.
We will set up an online RSVP to help us gauge attendance at each service.
We will strongly recommend that every person, medically able, wears a mask while in the building. Please consider this an act of service and love towards your brother and sister, even if you don't feel the need to wear one personally.
The building will be 'deep cleaned' and sanitized before, between and after all services.
For those who are not ready to return to gatherings in person, we will continue to have our services available online, just as we have for the past several months. If you have any symptoms or feel ill, please take advantage of the online service and do not come to the building. If you feel physically vulnerable, if you are in a higher risk category, or have any concerns at all – there is no obligation or pressure for anyone to attend in person. Take your time, pray to your Father and come back to church when you are good and ready.
We trust that this is a positive step forward for our church community. In truth, we are beyond excited to be together again, to worship our savior in one place and to see each other after all this time.
Great days ahead - on behalf of the Elders and Pastors of Community Church
Alan Cullen
Lead Pastor


1400 West Broomfield Street, Mt. Pleasant, MI 48858


mpcc.org