Last Saturday was a wonderful day of blessing. I participated in the live stream of The Return, a one-day ministry of prayer and repentance held on the Mall that lies between our nation's Capital Building and the Washington Monument. What an amazing day! Nine hours of prayers led by Christ followers from all over the world.
If ever we need to be praying, it is now. Revival is hoped for and sought, but it must always be preceded by vigorous repentance and prayer. The Return has launched us into a new desire for prayer. It is time for the Church to return to all the promises of God that are offered to those who repent and take up their Cross to follow Jesus. Our nation is in pain. The lethargy of the Church has contributed to our current dilemma. Now we have an opportunity to seek God and ask for His help to restore the Church and the nation to His holy will.
It is for these reasons that we are encouraging you to spend more time in prayer. Do not limit your prayers to meals and bedtime. Take up the armor of God and when you are fully clothed in the Helmet of Salvation, the Breastplate of Righteousness, The Belt of Truth, and your feet are shod with the Preparation of Peace, then take up the Shield of Faith and the Sword of the Spirit and pray. Prayer is our greatest offensive weapon. Through prayer, God moves mountains and directs the course of history.
A member of Community Church has graciously provided a small book to help you in your prayer time. It is a 40 day prayer guide for our nation. It is not a political document. It's all about seeking God and His will for our nation.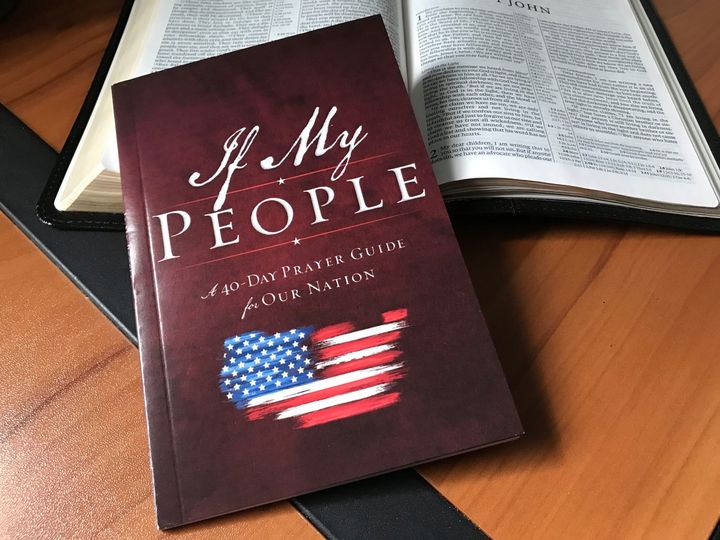 These devotional prayer guides are available at the church office Monday through Thursday and they will be at the Info Center on Sundays. Please, take one or more and pray. If you have questions, get in touch with me.